Updating VR Tool
If there is a new version of VR Tool published it can be automatically downloaded and updated. There are two ways how to do that: using a notification or manually.
If using the Standalone version of VR Tool, this functionality is not available. You can update VR Tool only by downloading the latest version from VR Tool folder.
Using notification
Update notification window appears if there is new version of VR Tool on update server at the time the tool is launched.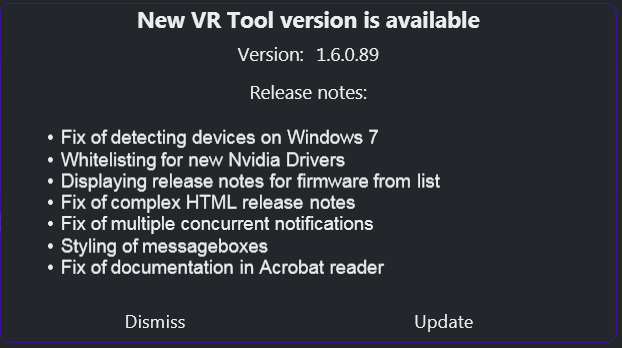 If you press Dismiss, the update will be canceled.
If you press Update, the update will start. Then you will continue as in section Installation from step 1.
Manually
You can also manually check for VR Tool updates by pressing Search for VR Tool updates in Device menu.
If there is an update available, you will continue as in Using notification section.
If there is not an update available, you will see this window:

This page was last modified on June 22nd, 2023 at 11:59
< Previous
Next >